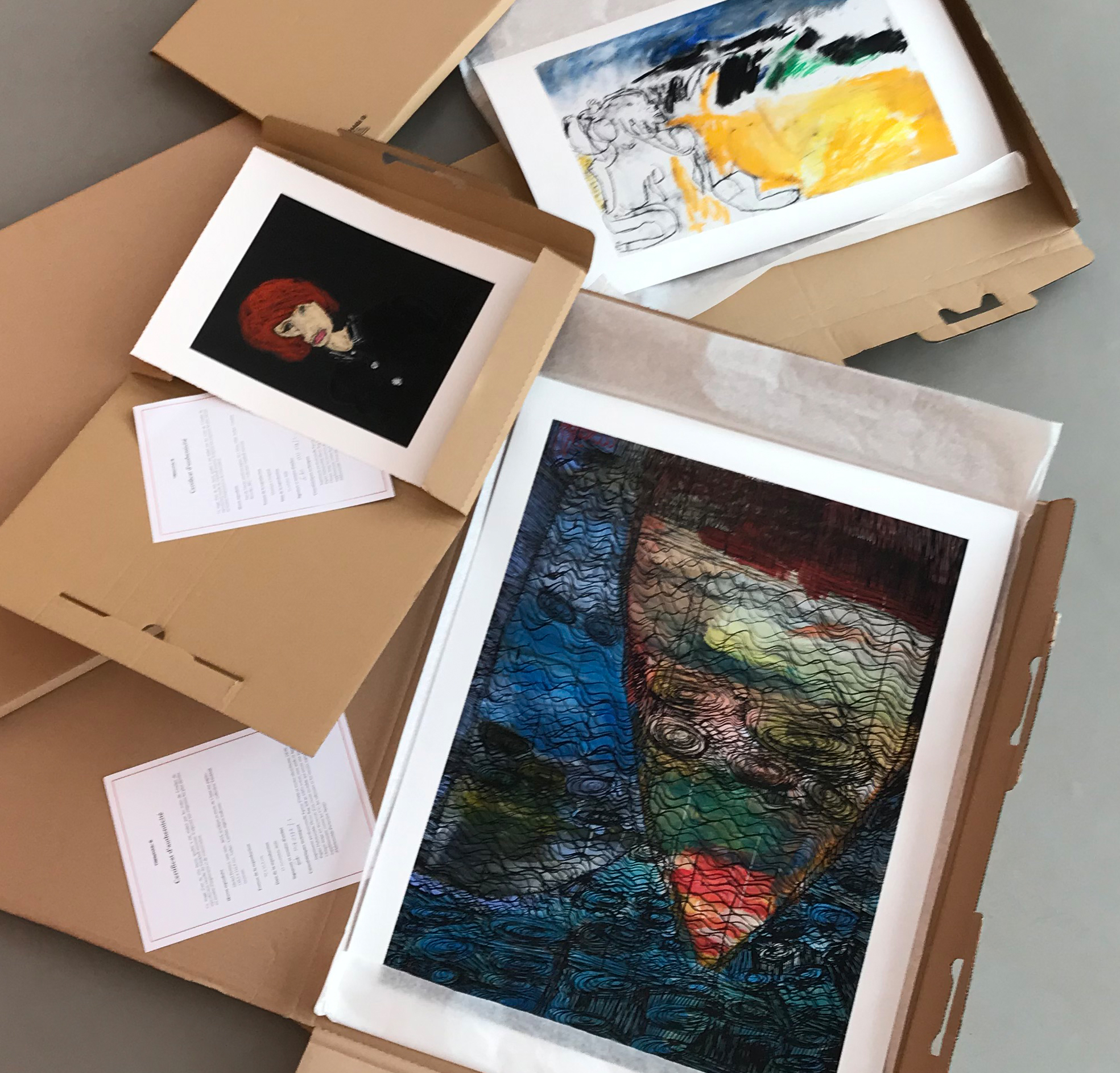 TRINKHALL PRINTS
The Trinkhall visual creation workshop gives each of us the possibility to reproduce pieces from the collection in the form of top-quality art prints in line with the highest standards in terms of printing and preservation. We see it as an additional way to take care of the collection and set in motion an open policy in terms of circulation. Naturally, the pieces in the collection are sacrosanct. But, any reproductions of them at this level of requirement will act as privileged agents, in keeping with the intimate network of analogies and emotions, increasingly displaying the expressive power of fragile worlds. More than ever, the Trinkhall Museum is full steam ahead!
We have worked passionately. Now we take great joy in evaluating our enthusiasm and responsibilities. When an image is ready, we sometimes sit with our eyes fixed on the printer as if it is a TV. We press the "print" button and, at first, the machine is silent. And then, it kicks into action: whispering, breathing and sighing to release the pressure. On the screen, we read, "Sleep mode off… please wait." (Please wait: ah! If only when we wake up, we could apply the same wisdom, the same calm self-assurance or the same discernment!) Soon, the whole machine is brought to life by slight but loud vibrations, shuddering, the clinking sound of adjustments, sliding, buttons, guides and margins. The paper also has its own sound. It unfolds a little, moves down and then moves back up again. It then moves down again and stops in the same position to the exact millimetre. A slightly solemn, silent pause follows, keeping you on tenterhooks. Then gradually, the cartridge starts to operate. It begins its comings and goings and places the pigments on the sheet of paper with unending sensitivity and captivating precision. Each time it passes through, the roller releases the print. The paper is an oracle, slowly revealing its mysteries and enigmas - the poetry of colours, substance, presence and forms.
If you would like to buy a print of a piece from the collection, we now have a full series ready at the Museum. You can also order on line.
We are, of course, available to help you with your choice, for example, according to your memories of your visit. You can come and collect your print at the Museum. We can also deliver or post it to you at your convenience.
Prices and technical features
Three versions of the prints are available:
Print only:
"Small": 48 x 33 cm - 40 euros
"Medium": 60 x 40 cm - 60 euros
"Large": 80 x 60 cm - 90 euros
Framed print:
"Small": 65 x 50 cm - 150 euros
"Medium": 90 x 70 cm - 210 euros
"Large": 110 x 85 cm - 290 euros
Prints are produced according to the following protocol:
- Epson P7000 professional printer and Ultrachrome HDX inks.
- Hahnemühle Photo Rag paper - 308 gr 100% cotton, free from acid or lignin
- Each print is treated with invisible varnish providing additional protection against UVs, stains and superficial scratches (Hahnemühle Protective Spray).
To give you a sneak preview before we upload the whole collection onto our site, here is a non-exhaustive selection of the pieces you can purchase in print version.
Please feel free to contact us: LES IMPRESSIONS DU TRINKHALL - + 32 4 222 32 95